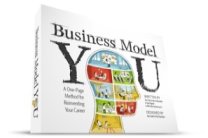 De internationale bestseller Business Model Generation introduceerde een unieke visuele manier om over elke business of product idee te brainstormen en samen te vatten op slechts een vel papier.
Business Model You gebruikt de zelfde krachtige one-page tool om lezers te leren hoe ze "personal business models" maken, waarbij ze nieuwe manieren ontdekken hoe hun skills aangepast kunnen worden aan de veranderende markt, wat resulteert in nieuwe, meer genoegzame carrière en mogelijkheden van het leven. De methode is gebaseerd op het Business Model Canvas, wat zich al snel ontpopte tot the world's leading business model description and innovation technique.
In de Business Model You workshop gaan deelnemers direct aan de slag met het doel "Reinventing your career".
De trainers van deze Readiness workshop zijn zelf co-auteurs van het Business Model You boek.